3

min read
The property that The Paddocks apartments is built on has been in Kevin Berger's family for generations. When he was a kid, the property was part of the Everett Easterday farm, which came from his wife's, Katy's (White), family farm. This was a place he played as a Culver kid and it was known as the Sand Hill. When the farm was broken up and sold in 2005, Kevin bought it at auction. When it came time to develop the property with the initial apartment complex, the property was put into an limited liability company, Culver Sand Hill Farm LLC. This memorialized the sand hill and from that came Sand Hill Farm apartments and later, The Paddocks. (We were disappointed when the Town of Culver assumed naming rights and named the street Cavalier Drive. We were hoping to continue the farm theme as we had with the apartment complexes and name it Rebecca Lane.)
When it came time to determine the site sign for The Paddocks, we had already determined that we wanted to do this with some kind of split rail farm fence with "The Paddocks" name on it. We had also found a horse sculpture that we liked and wanted as part of the site sign. We employed Shelly Schrimsher of Unlocked Creativity to help us massage that idea. She did a wonderful job, taking our original idea, adding to it and producing a revised logo and construction drawings.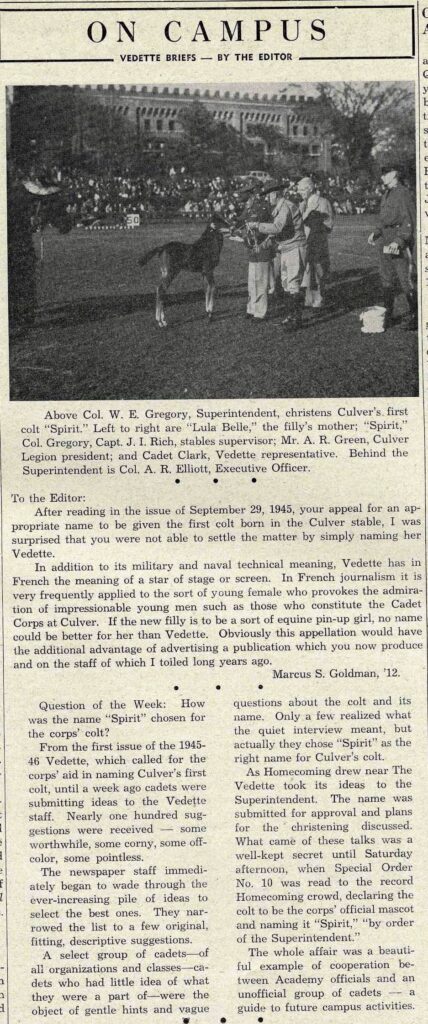 Shelly made the suggestion to tie the sign to Culver by mimicking the black wood fencing that used to surround the Black Horse Troop pasture at the corner of Highways 10 & 17 and make the horse black to reflect that tie in. (Some of the original fence is still there on the south side of the intersection.) We liked that idea and ran with it. She tweaked the logo, created dimensioned drawings and found horse sculpture options. Erik Newman and Titus, Inc. did the metal fabrication for the sign.
We decided our horse should have a name. We contacted several people with the Black Horse Troop at Culver Academies, but in the end, it was Jeff Kenney that came through for us. We learned about Clock and American Lady amongst other notable horses from the past. Of the names he found, the one that resonated with us was Spirit. Spirit was the first colt born to a mare, Lula Belle, while she was an active member of the Black Horse Troop. The filly was named Spirit from student submissions and she was a cadet favorite for years.
We wanted the site sign for The Paddocks apartments to be something that would be iconic but also continue the farm theme. By tying this to one of Culver's landmarks from the past, we feel we accomplished this. The name Spirit also embodies the community collaboration and effort that went into this project through the Stellar Communities process and the subsequent work by Culver Sand Hill Farm LLC, The Paddocks LP, Easterday Construction Co., Inc. and all of their partners and subcontractors that made this project possible.