The BLC, Garden Court's latest project slated for Plymouth, Indiana was shot down last night at the Common Council meeting. It's unfortunate because it's needed, but the NIMBY crowd prevailed. This was despite the support of the Mayor, City Attorney and Plan Director.
The project was actually instigated by State organizations suggesting that with the success of the Serenity Place facility, the City of Plymouth and Garden Court should attend the Housing Institute, a series of 9 meetings in Bloomington, Indiana. Completion of the Institute program mostly assures an application will be awarded if it meets the basic materials. The project was well represented at The Institute. John Myers; Chairman of the Garden Court Board of Directors, Sean Surrisi; City of Plymouth Attorney, Linda Yoder; Director of Marshall County Community Foundation and United Way, Jeff Kumfer; SRKM Architect, Alonda Jenkins; Bradley Company , and Anne McKinley; McKinley Development all attended. Culver Sand Hill Farm came in later in a consulting capacity due to our experience with Tax Credit on The Paddocks and Riverside Commons.
It was a struggle to find a site suitable. Garden Court finally landed on the site adjacent to Martin's Super Market, currently owned but Martin's parent company. The size was right. The location was excellent, as it was within walking distance of the school, the Lifelong Learning Network's new facility, a grocery store and pharmacy. There was commercial development in the neighborhood that could provide jobs. That was important because Garden Court considered this workforce housing.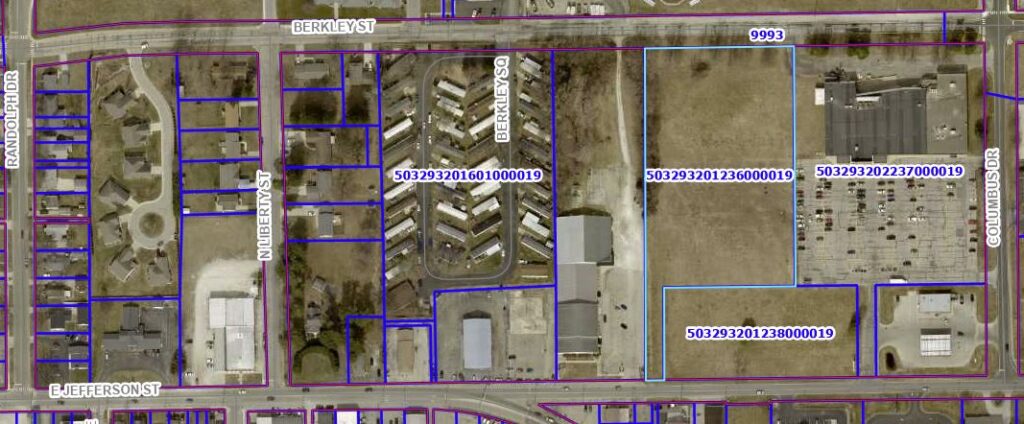 But it was mostly those commercial property owners that came out against this. At the Plan Commission meeting they mostly spoke about the need to preserve the commercial corridor on Jefferson Street. Also the loss of potential due to the possibility of future commercial development there. They also talked about Jefferson Street being an important commercial corridor for people coming into Plymouth. These comments ignored a few important facts: 1) This lot has been vacant since it was cleared for development by Martin's Supermarket in 1989, nor has it moved since it's been actively on the market for the last 4 years. 2) The BLC would have been built with it's entrance off of Berkley Street, preserving a 2+ acre site fronting on Jefferson Street that would remain zoned commercial. This would mimic the rest of this corridor as is visible of the map, where the Jefferson Street side of the lot is commercial and the Berkley Street side of the lot is residential. 3) While Jefferson Street WAS a commercial corridor with access to S.R. 30, it never developed at that intersection. Currently you can only exit on to S.R. 30 going south, and INDOT has not been shy about the plans to close that intersection complete. In the end, the Plan Commission voted it down, though not with enough members voting against it to put a negative recommendation in front of the Common Council.
Based on comments at the Plan Commission, the site plan was revised before going before the Common Council. The access to Jefferson Street was eliminated and a faux potential commercial development was shown on the remaining Jefferson Street lot.
There were more people at the council meeting to protest. A few voiced legitimate zoning concerns, but then it went downhill with attacks on Garden Court and Serenity Place. In the end, the vote was to deny the request, thus killing this project for this year.
It's frustrating because we are continually approached, asking if we could help with the issues at The Red Rock Inn, the Economy Inn, Northgate mobile home park, etc. The best solution to these problems is to provide alternative housing. This is what we're doing with Riverside Commons in Plymouth. This is what Garden Court hoped to do with The BLC. These are not people from other counties as was suggested by one protester. These are people that are currently in the Plymouth Community. As a true not-for-profit, Garden Court is able to invest more in these facilities and is committed to their upkeep. This would have been a good addition to Plymouth.
The attacks on Serenity Place were interesting and ill-informed as well. Several times it was noted that there were issues and police calls to Serenity when it first opened, but these have been brought under control. (Police Chief Bacon attested to that at the Common Council meeting.) When moving people from a problem area to another facility, it will be likely that some of those problems will follow. Bradley Company and Bowen Center have gotten these under control now. That's what the planned result was and it was achieved.
We may or may not be involved in another attempt at this next year. There are concerns about whether this will have any better luck in another location as there will just be a different set of NIMBYs there. Ignoring the problem doesn't make it go away. We will just have to decide if it's worth the battle.