As discussed in our post here, our IHCDA RHTC application was submitted on July 30th. Now that things have calmed down a bit, we thought we would share a little more about The Paddocks and how it came to this point.
When the Town of Culver completed their Comprehensive Plan in 2014, they received resounding feedback that affordable housing was needed, though no one could actually define what that was. This led to the creation of an Entry-Level Housing Task Force, commissioned with the task of determining what the need was and how to fulfill it. A lot of their progress was documented in the Easterday Construction Co., Inc. Blog here.
The Task Force determined that there truly was a need for housing at all levels except the high end. High end housing continues to be built and in some cases is gobbling up other housing through demolition, combinations of lots, and extensive remodels. Making the problem worse was that many of the new high end houses were part-time residences doing little to contribute to the workforce or add students to the local schools. Rental property also was in demand. The Culver Academies own 70+ units which they rent to staff. That's not really their mission, but they had become a landlord out of necessity. Elkay Manufacturing said that less than 15% of their workforce lived in Marshall County. Culver Community Schools discussed the issues starting teachers had finding housing. Culver Academies, Culver Community Schools and Elkay Manufacturing all became active participants in the Task Force in hopes of solving their individual needs.
The Task Force had identified LIHTC (Low Income Housing Tax Credits) also known as RHTC (Rental Housing Tax Credits), administered by IHCDA, as a possible solution. Several Developers from this arena were contacted, but it was difficult to foster any true interest in Culver. Jerry Chavez of Marshall County Economic Development Corp. (MCEDC) and Kevin Berger, Culver's representative on MCEDC, made a trip to Indianapolis to discuss the possibilities of LIHTC or other State programs with OCRA's Director, Bill Konyha. Mr. Konyha is the one that planted the seed for Culver to attempt Stellar Communities designation. He agreed that LIHTC was Culver's best option, but as a rural community, the competition would be tough. Culver was unlikely to stand out in the pack. But the Stellar Communities program included an IHCDA LIHTC set-aside. In 2015 the split of the Stellar program into two population levels was pretty new and the competition for the under 6000 population category hadn't heated up yet.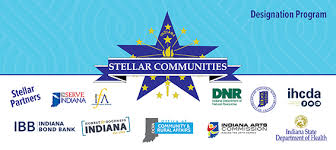 Armed with that information, the Town of Culver embarked on a run for Stellar Communities designation in 2016. Entry Level Housing was the signature piece in that application.  While a strong showing was made, other communities HAD stepped up their game and Corydon received the designation. Culver didn't want to wait a full year to try again and negotiations were completed with Culver Sand Hill Farm, LLC to build the Sand Hill Farm apartments. These apartments would have rental caps in exchange for infrastructure provided to the site by the Town of Culver. Culver Sand Hill Farm began the process of annexing the site, obtaining a Special Use Variance for multi-family housing and began the design process for a 24 unit apartment building.
We feel that it was the demonstrated commitment of the Town of Culver and the Developer, Culver Sand Hill Farm, to move ahead on this project that made Culver stand out in their 2017 application. Many of the same evaluators who attended the 2016 site meeting came again to the 2017 site meeting. They were able to see the start of the project that was discussed in the previous application. We feel this was impactful.
When we learned that Culver was successful in achieving Stellar Designation, we learned of several changes to the IHCDA program: 1) The application due date had been moved up to July 30th from it's previous November 4th due date. This meant that awards would be announced in November rather than in the Spring as in the past. and 2) The IHCDA QAP (Qualified Allocation Plan) was up for review and it was possible that the Stellar Set-Aside would be reduced or eliminated. We were strongly encouraged to apply in 2018 putting us under time constraints.
This Spring we embarked on planning for The Paddocks. This involved retaining a consultant to see us through the Tax Credit Application process. They will also help with syndication and other tasks once tax credits are awarded. The Phase I & II Environmental Survey that was completed on the property for the Sand Hill Farm Apartments was too old to use for this project, so that had to be completed again. Even though it should have been an update, the original consultant wanted more for an update than we could get a new Phase I survey, so we had to retain a new company to complete that work. We were required to complete a Market Study with an independent consultant, so one had to be retained and helped through the process of learning Culver and the surrounding area. We retained an Architect, SRKM Architecture, to do preliminary plans for the application. We obtained Tax Credit Specialist status and retained a management company with the necessary credentials to administer LITHC housing as well. In all, tens of thousands of dollars have already been spent on this effort.
We will find out in November if we are successful. Interestingly enough, Marshall County's Stellar Region representatives will be doing their live presentation on the same day. Hopefully there will be two wins for Marshall County that day!